Archiving Service Documents
You can archive service quotes and service orders. The archived documents are then listed collectively along with a version number on the Service List Archive page.
Archiving Service Quotes
Service quotes can be archived using a command from the menu bar.
Use the quick search in TRASER DMS 365 to find the page Service Quotes.
You will see the page with the already predefined service quotes.
Open an existing service quote or create a new one.
Select Actions > Function > Archive Document from the menu bar. If the menu item is not displayed, click on More Options on the menu bar.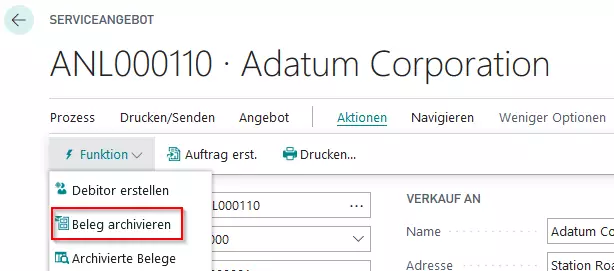 A message is displayed indicating whether you really want archive the document.
To archive the document, confirm this message with Yes.
A message appears indicating that the document has been successfully archived.
Confirm this message with OK.
Archiving Service Orders
Service orders are automatically archived as soon as they are posted. There will be no separate archiving function available afterwards via the menu bar.
Accessing Archived Documents
Use the quick search in TRASER DMS 365 to find the page Service List Archive in order to view the archived documents.
A new window is displayed with the archived documents.

The column Version No. shows the respective version of the document. The version number is incremented once an archived document is changed or archived again.