Assigning Allowed Dimension Values
If you apply predefined dimensions to accounts, whereby certain dimensions are automatically assigned to an account when it is entered in the posting line of a document, you can specify in a further step whether only certain dimension values of a dimension should be allowed. This avoids using dimensions that may not be used anymore.
Note
This function will only be used for documents that have been created after activating the function. Documents that were created before this function was activated won't be affected.
Proceed as follows to assign dimension values:
Use the quick search (ALT+Q) to find the page Chart of Accounts.
The page Chart Of Accounts is displayed. This page shows you all the accounts that have been set up.
Select the account that you want to assign dimension values to.
In the menu bar click on Related > Account > Dimensions > Dimension Association for Selected Data Record.

Note
If the menu item Related is not displayed, click on More Options in the menu bar.
The default dimensions for the selected g/l account are displayed.
From the Dimension Code column, select the dimension that you want to assign allowed dimension values to.
Note
To be able to assign an allowed dimension value to a default dimension, the Value Posting column has to be set to Code Mandatory.
Click Allowed Values in the menu bar.
The window Edit – Allowed Dimension Values is displayed. In this window, you can set up the allowed dimension values for the default dimension.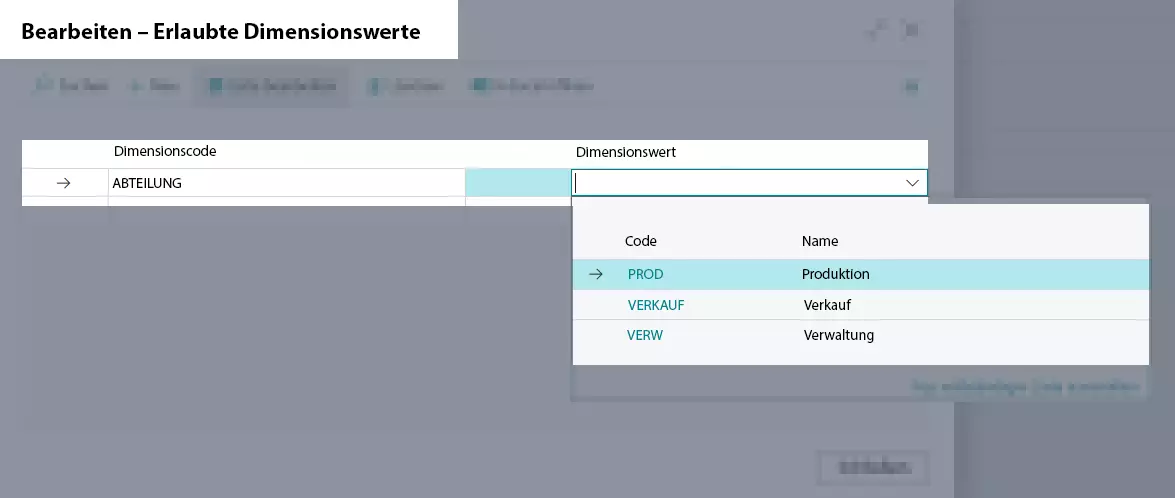 After entering the allowed dimension values, click on Close
You have successfully set up allowed dimension values for a default dimension.
Related topics